29D AGO
Regions Tradition assists in reinstating the First Tee's Birmingham chapter
While only one man will walk away with this week's Regions Tradition crown, the season's first PGA TOUR Champions major will also be leaving a lasting impact on countless Birmingham area kids.
Following a 13-year absence, the Regions Tradition, in partnership with Regions Bank, is reinstating the First Tee's Birmingham chapter.
First Tee, which launched in 1997, partnered with many of golf's major governing bodies, including the PGA TOUR, as a way to give more kids the opportunity to enjoy the game by way or affordability and accessibility.
In addition to learning and playing the game of golf, First Tee places a premium on life skills and core values to help build and enhance character on and, even more importantly, off the course. Since that 1997 launch date, more than 15 million kids and teenagers have benefitted from more than 150 First Tee chapters around the world.
"We are so excited to be relaunching the Birmingham chapter of First Tee," said Carlos Carter, president of the First Tee of Birmingham. "We are confident this program will make a significant impact in the city."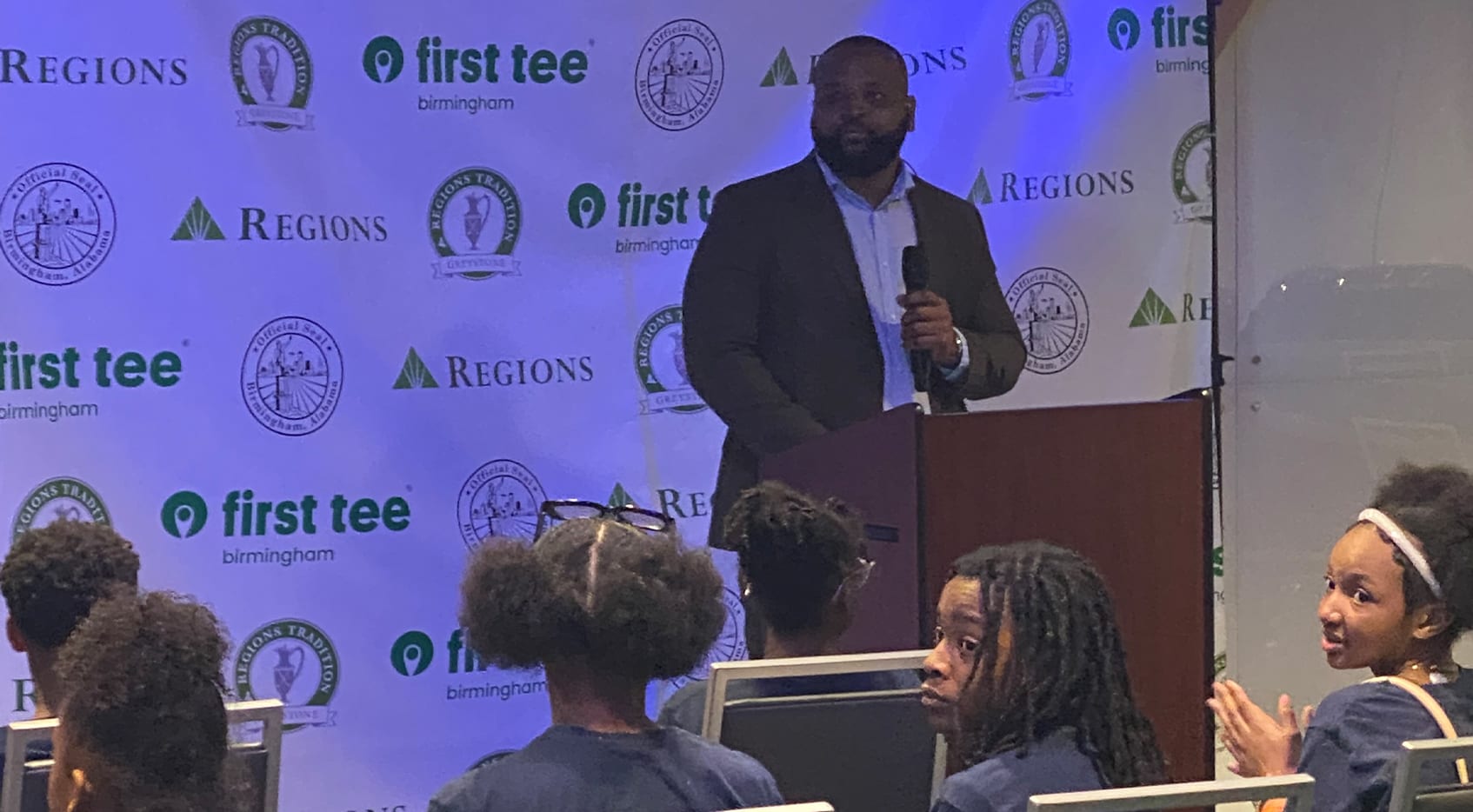 Carlos Carter, Executive Director, First Tee - Greater Birmingham speaks at an event announcing the relaunch of the First Tee Birmingham chapter. (First Tee- Birmingham)
As the title sponsor of this week's event in Hoover, Regions Bank is also a pivotal player in the re-launch of First Tee in Birmingham.
"Regions is committed to helping make life better in this community and all the communities we serve," said Leroy Abrahams, Head of Community Affairs for Regions, via a press release. "We are proud to support First Tee as it relaunches in our headquarters city and look forward to seeing a continuation of their positive impact on young people in Birmingham."
To help tee off the relaunch earlier this week, upwards of two dozen kids teed it up at TopGolf in Birmingham, complete with tips from PGA TOUR Champions players competing in this week's Regions Tradition.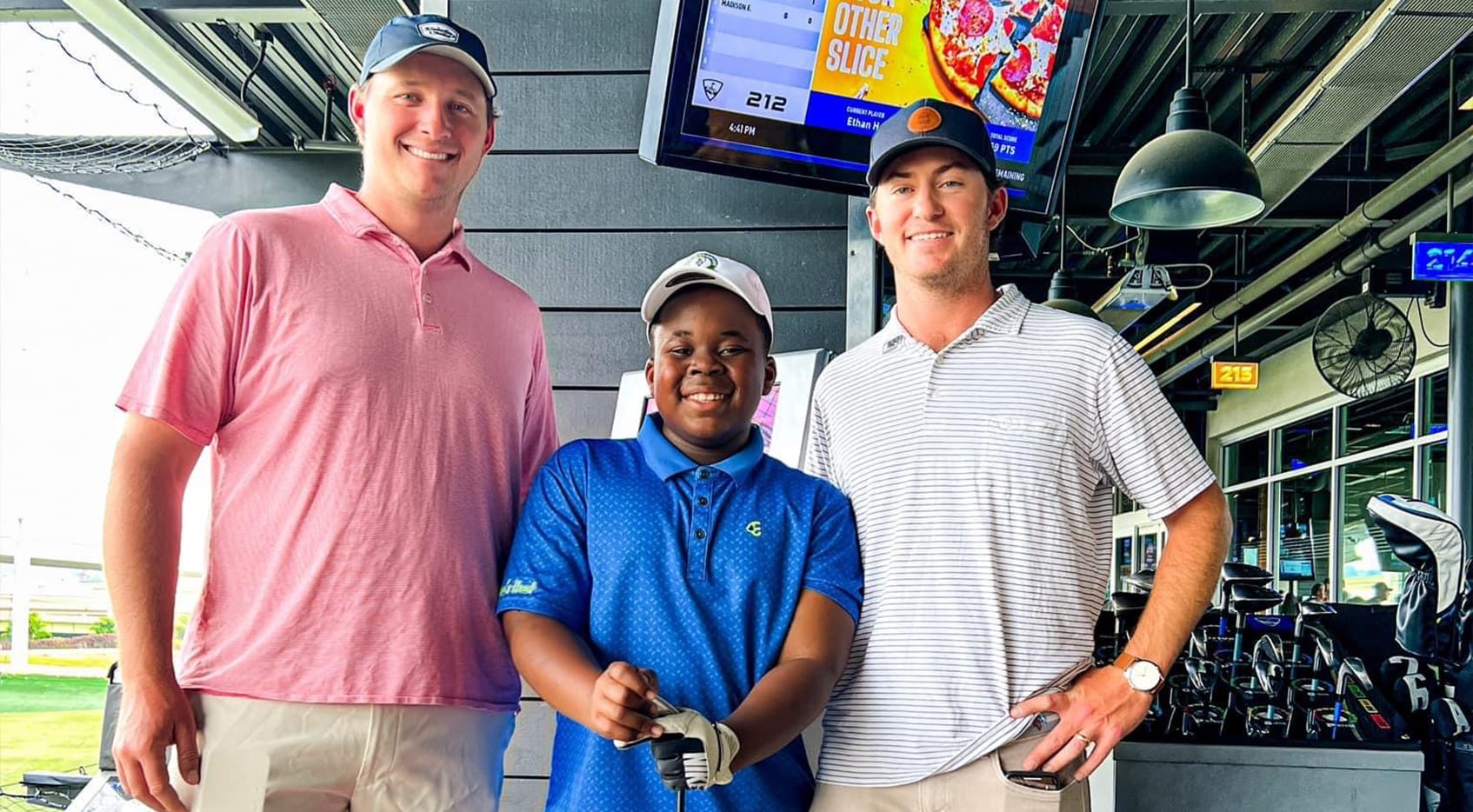 Sepp Straka (left) and Michael Johnson (right) at the First Tee Birmingham relaunch party at TopGolf in Birmingham. (First Tee - Birmingham)
Among those on hand to help share in the announcement Monday was Birmingham City Councilor Crystal Smitherman. Not only is she a First Tee alum who joined at the age of seven at Highland Park Golf Course, but Smitherman would go on to earn a college golf scholarship.
According to Smitherman, First Tee and the game of golf taught her values.
"I learned patience, I learned confidence," Smitherman said of the values instilled in her through First Tee programs as a kid. "I learned sportsmanship and I learned honesty, which is so big and important."
As part of its relaunch in the Magic City, First Tee programs can be enjoyed at Highland Park Golf Course, Roebuck Golf Course, TopGolf and even Birmingham's PGA TOUR Superstore.
So, while only one player will walk away with this week's Regions Tradition trophy, countless others will now have the opportunity to fine-tune the quality of their own game, as well as the quality of their character. And, it's that kind of impact which lies at the heart of all the PGA TOUR Champions and the Regions Tradition stands for.
"PGA TOUR Champions give so much back to charity," said University of Alabama grad Jason Bohn. "I understand the Regions Tradition alone has given over $20 million to charity, which is amazing. Every time I come back to the state of Alabama, a chill goes through my body. So, being here and part of an Alabama event that is so dedicated to giving back makes those chills even more intense."
"I know personally how important supporting charity is, because we do the same thing in our hometown event of Madison, Wisconsin at the AmFam Championship," said defending Regions Tradition champion, Steve Stricker. "It's no different here. So, for us to come in and help raise money to help organizations across this area is really meaningful to us as players."