Archive
PGA TOUR Champions, SUCCESS Golf team up to inspire hope in special-need children at Insperity Invitational
In layman's terms, PGA TOUR Champions can be described as a career-extending avenue for players 50-and-older who've still got one heck of a golf game.
That's the short – and incomplete – definition, for life and livelihood on a wildly competitive circuit that is about far more than just golf.
In addition to serving as an outlet through which players can extend their careers in front of a large and enthusiastic fanbase, PGA TOUR Champions is also a breeding ground for those up-and-comers just looking to get into a sport which transcends the playing field into everyday life.
On Tuesday at this week's Insperity Invitational presented by United Healthcare, a number of special children were on site for a unique event that was defined by competitive fires, fun and, most importantly, the prospect of hope.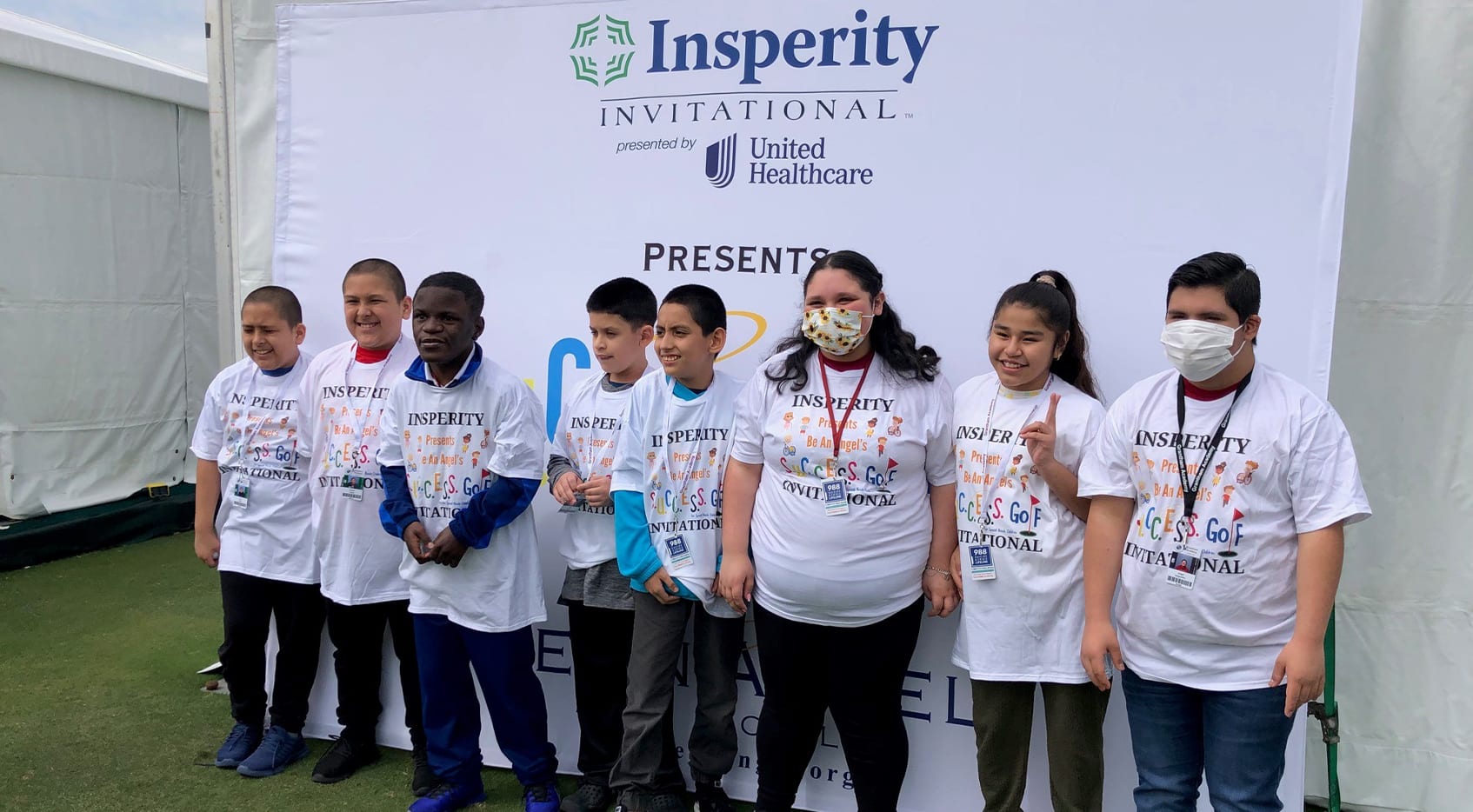 By way of teaming up with PGA TOUR Champions players, the SUCCESS Golf Program (Students Undertaking Challenging Courses Ensuring Development of Sportsmanship and Skill) hosted an unforgettable golf experience for a worthy group of Houston children living with disabilities.
SUCCESS Golf, a product of the Be An Angel Foundation, was created to help special-need children develop and/or strengthen motor skills and muscle control by focusing on the game of golf.
Through the program, children who would not otherwise have the chance, become exposed to a game they can play their whole lives.
Based in Houston, the tournament series has been around for upwards of 15 years. It began modestly, without even a playing ground. That, though, has changed and there are now roughly a dozen events each year.
"Twelve years ago, we took a tour of a small school in the Aldine school district here in Houston," said Marti Boone, Executive Director, Be An Angel. "The teacher had actually laid out construction paper in a way as to create a 9-hole putting course for the kids. We saw that and thought 'What a fantastic idea to be able to do something like this and take it to school districts all over the state of Texas."
On the heels of the idea, a donor came forth to help fund the creation of the mobile course, as well as a van to haul everything around to 15 school districts in the Houston area.
After a long qualifying process, those who advanced through the multi-district program played their version of a "TOUR Championship" on a portable nine-hole putting course set up on the driving range at The Woodlands Country Club Tournament Course.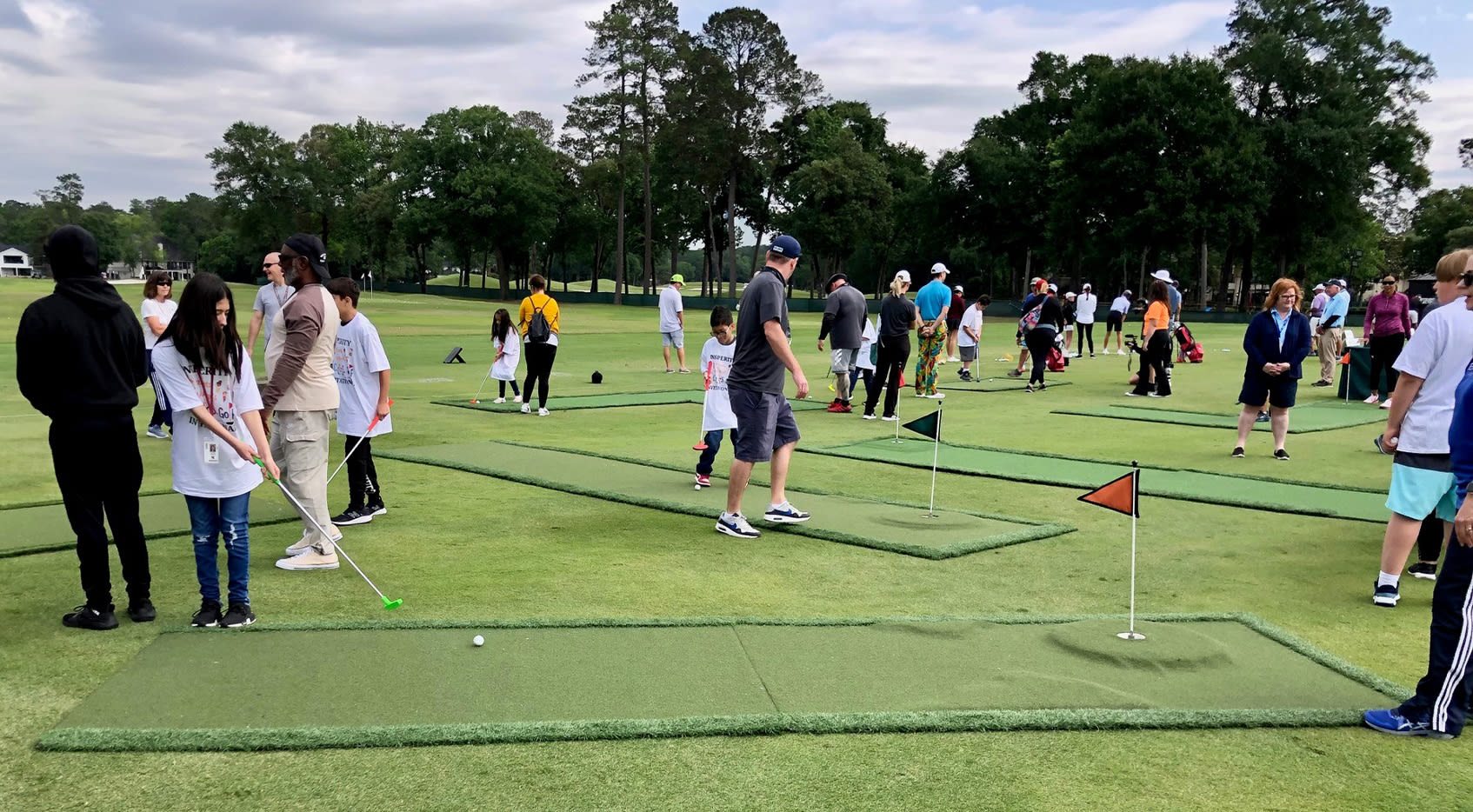 "All these students have gone through their own district's course, their own event at their own school," said Margaret Adsit, Be An Angel's Program Director. "They will go through all nine holes, but the difference is they will be challenged by all those in the other districts. It certainly adds another element of excitement, but it's really about just letting them have fun because they know they were chosen from their school district to come here to see and get tips from the pros."
"To have these kids that are here today is just amazing," said Corinn Price, Executive Director, Corporate Citizenship at Insperity. "For months, they learn and go through this curriculum. So, it's really a celebration when they come here for this. Pros come give tips, it's just an incredible opportunity for the kids. It creates an incredible synergy for all of the different entities to come together and have this incredibly rewarding experience."
"To see them come out after all that is amazing," said Adsit. "It gives them a sense of accomplishment and a lot of enjoyment. We've also found that golf helps with motor skills and eye-hand coordination. There's just a lot of things about the game of golf that can transfer to the classroom. So, that was the benefit I first saw with the school district and now as a Program Director for Be An Angel."
An Insperity client for a number of years, Price says that Be An Angel has been an amazing community partner from day one.
"Insperity's mission statement is 'helping businesses succeed, so communities prosper,'" Price said. "This is just a fantastic partnership we have through the Insperity Invitational and PGA TOUR Champions."
"When I was a teacher in the school district, I was a program director, so we would host the golf tournament," said Adsit, who spent nearly three decades as a teacher in the district. "To see special needs children come out and buddy up is just wonderful. They have so much fun."
Two weeks prior to an event, the kids receive practice bags, which includes a putter and balls – some balls that will even ring for those that might need it. Adaptive equipment is available for those who may have those types of needs.
"The kids' adaptive P.E. teachers practice with these children for two weeks," Boone said. "Then, when they're done, we all come together in a district tournament. It's all special needs children, ranging from every level of ability."
At Be An Angel, the unwavering commitment is to enhance life's quality for children with special needs and in need of adaptive services and equipment.
"The whole family of all these kids love these types of things," said Boone. "Insperity has been a phenomenal title sponsor for this kind of thing and there are a lot of these things. This past year, Be An Angel sponsored over 8,000 special needs children all over Texas."
The heart and soul of humanity, Be An Angel believes children represent the genuine good in people. Driven by that belief, they strive to help children with special needs experience life at their fullest potential.
"These are all kinds of children with all kinds of needs, but the best thing about all of this is that they learn the game of golf and they learn to appreciate it," Boone said. "There's something about a special needs child. A lot of them are non-verbal, so when someone speaks to them and don't get a response, the person speaking may wonder what they can say next. But, children are children and children are on the inside. They love to participate in special things that make them feel important. What happened here today is absolutely one of those things that brings it all together."