17D AGO
Kramer Hickok trades his clubs for a fly rod during his long-awaited honeymoon
Kramer Hickok and Anne Hakula spent the first night of their long-delayed December honeymoon in a tiny 4x5-foot blue tent. There was barely room for two sleeping bags and their backpacks. They didn't even have pillows to lay their heads on.
The fishing guide who had accompanied them on the 30-minute helicopter ride deep into Kahurangi National Park on New Zealand's South Island did double duty as the chef for the evening. He'd brought a cooler with some red snapper that he cooked in a cast iron skillet over an open fire. Water from the nearby river brought the dehydrated potatoes to life and they were served with the fish.
It wasn't glamping, by any means. They didn't even have a bottle of Sauvignon Blanc, New Zealand's signature wine, for a toast that night. "We were drinking water straight from the river, it was so clean," Hickok says. Even so, the experience was unforgettable.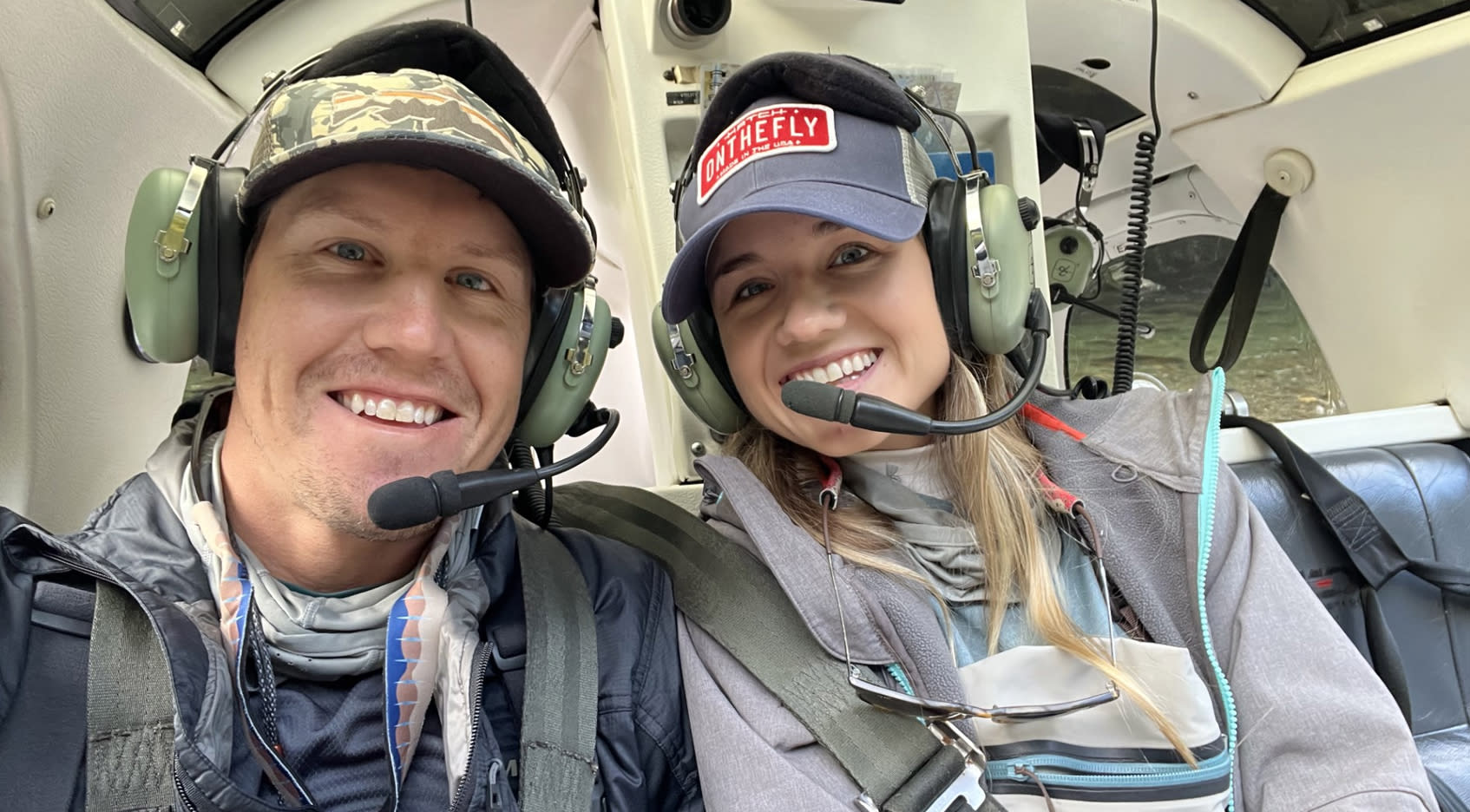 Kramer Hickok and Anne Hakula spent their long-delayed December honeymoon deep into Kahurangi National Park on New Zealand's South Island. (Courtesy Kramer Hickok)
"It was incredible because we're sitting there, and the fire was going and you're looking at the river and you're thinking like, you're so far away from civilization," he says. "That was the first night of our honeymoon. And even my wife would say that was probably the best, like the most fun that we had."
The couple, who married in December 2020, had waited two years to take their dream trip after COVID shut down the borders of New Zealand. When the restrictions were lifted last fall, the Hickoks quickly began making plans and the heli-fishing trip was first on their two-week agenda.
The helicopter had dropped the couple and their guide so deep into the wilderness that hikers would have taken three weeks to get there. But New Zealand has no predators – aside from birds of prey – "so sleeping on the forest floor in the middle of nowhere is a lot easier sell," Hickok says with a laugh.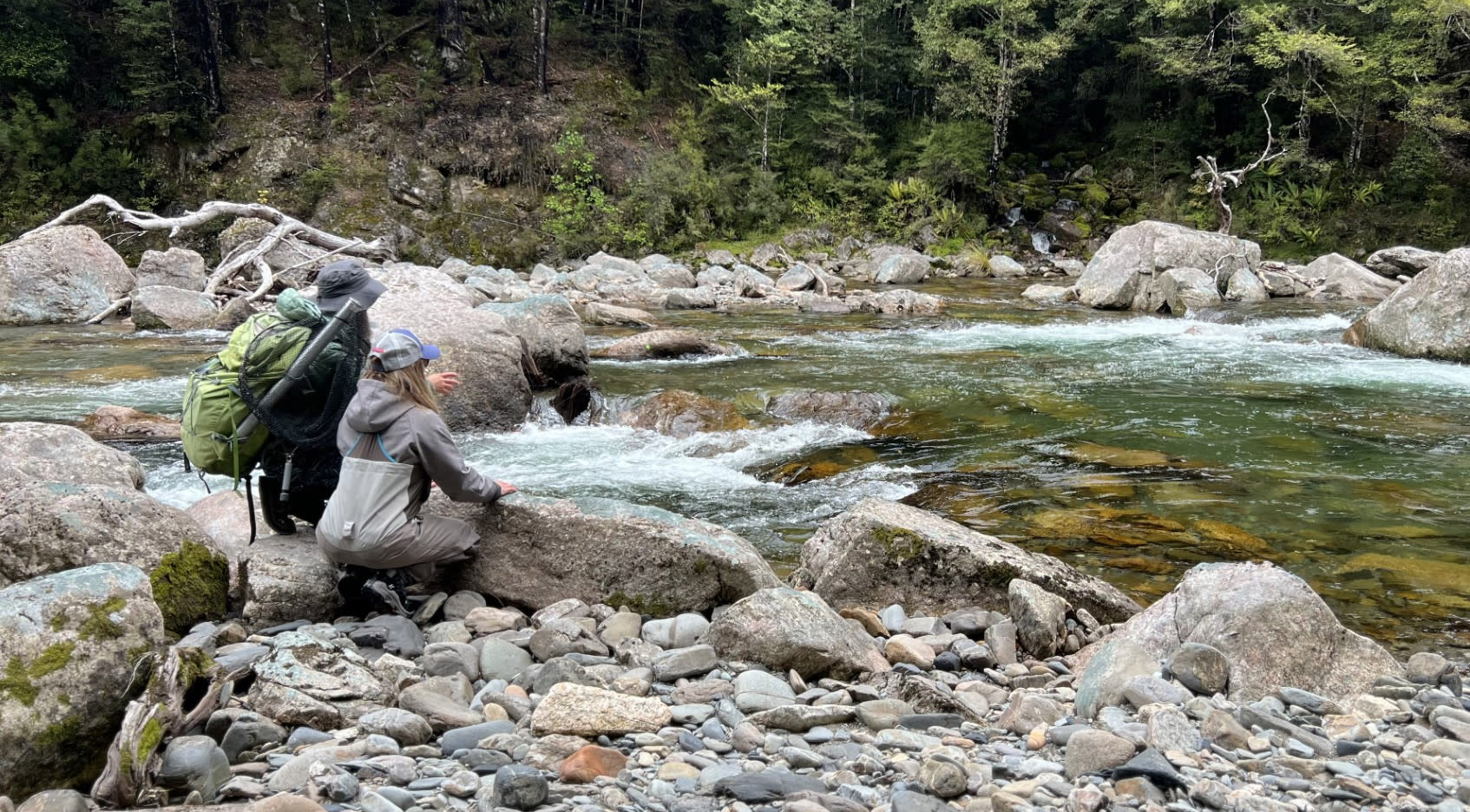 Kramer Hickok and Anne Hakula spent their long-delayed December honeymoon deep into Kahurangi National Park on New Zealand's South Island. (Courtesy Kramer Hickok)
The 31-year-old Texan, who is playing in this week's Charles Schwab Challenge, learned to fish on family trips to Whitefish, Montana. He'd play golf in the morning, then swap out his clubs for his fly rod and drive an hour or so into Glacier National Park to fish until sunset. Luckily, Anne, who came from Finland to play golf at the University of Texas, where she met Hickok, enjoys the sport, too.
"Golf and fly fishing are really my two passions," Hickok says. "It just keeps me outside and being active and obviously you're just in the middle of God's beautiful creation. That's sort of how I got hooked on it, was being out in the mountains."
Hickok says if a guide is a professional, he's probably a scratch handicap as a fisherman. While he's yet to take up tying his own flies, he's so serious about the sport that he watches videos of himself casting his rod just like he'd check out his swing on the practice range.
"I'm the kind of the nerd that's practicing in the backyard and I'm going over the top and I'm making sure I have the right line and the right rod and the right fly," Hickok says. "And my wife's taking videos of me and I'm making sure my casting form is good."
The biggest fish he caught in New Zealand was a 7-pound brown trout. (And yes, there's a video of the battle). Anne had good luck reeling in trophy fish, as well. Hickok said it was almost like "stalk and hunt" as they waded through the crystal-clear water – and their guide's expertise was essential.
Kramer Hickok and Anne Hakula spent their long-delayed December honeymoon deep into Kahurangi National Park on New Zealand's South Island. (Courtesy Kramer Hickok)
"There's instances where the guide's up in a tree and he's looking and saying, 'all right, I've got a trout, 60 feet in front of you, right behind that boulder,'" Hickok says. "And you're like, 'ah, I don't' – and then you can see the shadow move and you're like, 'oh, I can see him.' And he is like, 'get down on your knees and crawl.' You're trying to stick it as close as possible, and you try and cast without spooking them.
"And if you catch one, it's really rewarding because it could be 10 minutes of fight where the fish is running downstream and you're running after them. It's just a blast. … And the bigger they get, the older they are and the smarter they are. So, it's just that much more fun to catch them, I guess."
While the trip was heavy on fly fishing, there also was time for wine tours and tastings and marveling at the landscape around Queenstown on the South Island where "The Lord of the Rings" was filmed. Another highlight was their stay in one of the four cottages at Minaret Station, a remote lodge in the southern Alps near Wanaka that is reachable only by helicopter. That's where the glamping came in.
Minaret Station offers a variety of excursions for its guests. For example, you can explore the blue caves and glaciers at Mount Cook, which is New Zealand's highest peak. Hickok and his wife were supposed to do the Dusky Sound Experience, which would take them to the coast and Fiordland, accessible only by helicopter and ocean-going vessels. Among the things you can do when you get there? Dive for lobsters or fish for rockfish that are cooked as soon as you take them out of the water.
Unfortunately, the weather on the west coast of the South Island didn't cooperate so the Hickoks did some more fly fishing on a smaller river. But this time, dinner was a special event when the helicopter returned with a chef and lamb chops from the Minaret Station farm.
"And he's cooking fresh lamb over fire – lamb chops with potatoes," Hickok recalls. "He's got white wine. He's got red wine. And he's pouring glasses and he's got a charcuterie board for us with meats and cheese. And he whips up this whole table and his whole setup with a blanket and everything.
"The helicopter's right there. And we're sitting there and we're drinking wine and we're having lamb chops in the middle of absolutely nowhere and it was a perfectly sun-shiny day. And I mean that was total opposite of the first two days … but both of them are unique in their own way."