Archive
Fairways to Leadership teaches power of golf
Classroom this week is Arnold Palmer Invitational presented by Mastercard
To say Jaylen Brown was skeptical might have been an understatement.
Dr. Eric Boyd, an associate professor of marketing at the University of Central Florida in Orlando, had come to pitch his passion project, Fairways to Leadership, to the Student Ambassadors. Brown, who was the chair of the organization at the time, was a bit of a hard sell.
"At first I was like, why would I do golf?" he recalls. "I don't see the benefit of this. … I'm a young black man. This is never seen as anything that's doable for us. And it's not seen as cool, either. … Usually our demographic, they either want to go for something like basketball, football – golf is just not something that's for us."
The more Boyd talked, though, the more interested Brown became. He learned about how the six-week program would promote diversity, equity and inclusion in business by growing golf literacy and enhancing networking and leadership skills for the participants.
Brown, a finance major, was intrigued and he signed up for the next session. The 23-year-old UCF graduate is now interning with Fairways to Leadership, helping identify and recruit corporate sponsors.
On Wednesday, Brown and his fellow FWTL interns, Nick Henriques and Gio Collao, will get some on-the-job experience at the Arnold Palmer Invitational presented by MasterCard. Each will shadow PGA TOUR teams that relate to their areas of interest – tournament operations, marketing and event coordination, and sponsorships and sales. There will be a similar opportunity later this year at the FedEx St. Jude Championship in Memphis.
Along with learning about the professional opportunities available in the golf industry, Boyd thinks the additional exposure to the game will be beneficial to the three interns.
"So, what is a golf tournament? They have no context," Boyd says. "Just helping them to get more exposure to the game helps them to understand it better, to be more comfortable at it. … And I think the other thing is just the confidence (they'll gain).
"One of the big things we hear from students in our exit interviews, when we ask them, 'Well how has this impacted you?' They say, 'We're just more confident to try new things. We stepped into a new world. It has its own language, its own customs and everything, and we feel like we succeeded.'"
Boyd and his wife, Anna Alvarez Boyd, a retired executive with the Federal Reserve, started FWTL in 2020 during the pandemic and the summer of unrest after the George Floyd murder.
"We both had worked in an industry where golf had opened up opportunities for us," recalls Boyd, who with his wife has written a book, Fairways to Leadership, that will be published in the fall. "And so I said why don't I just invite my students out?"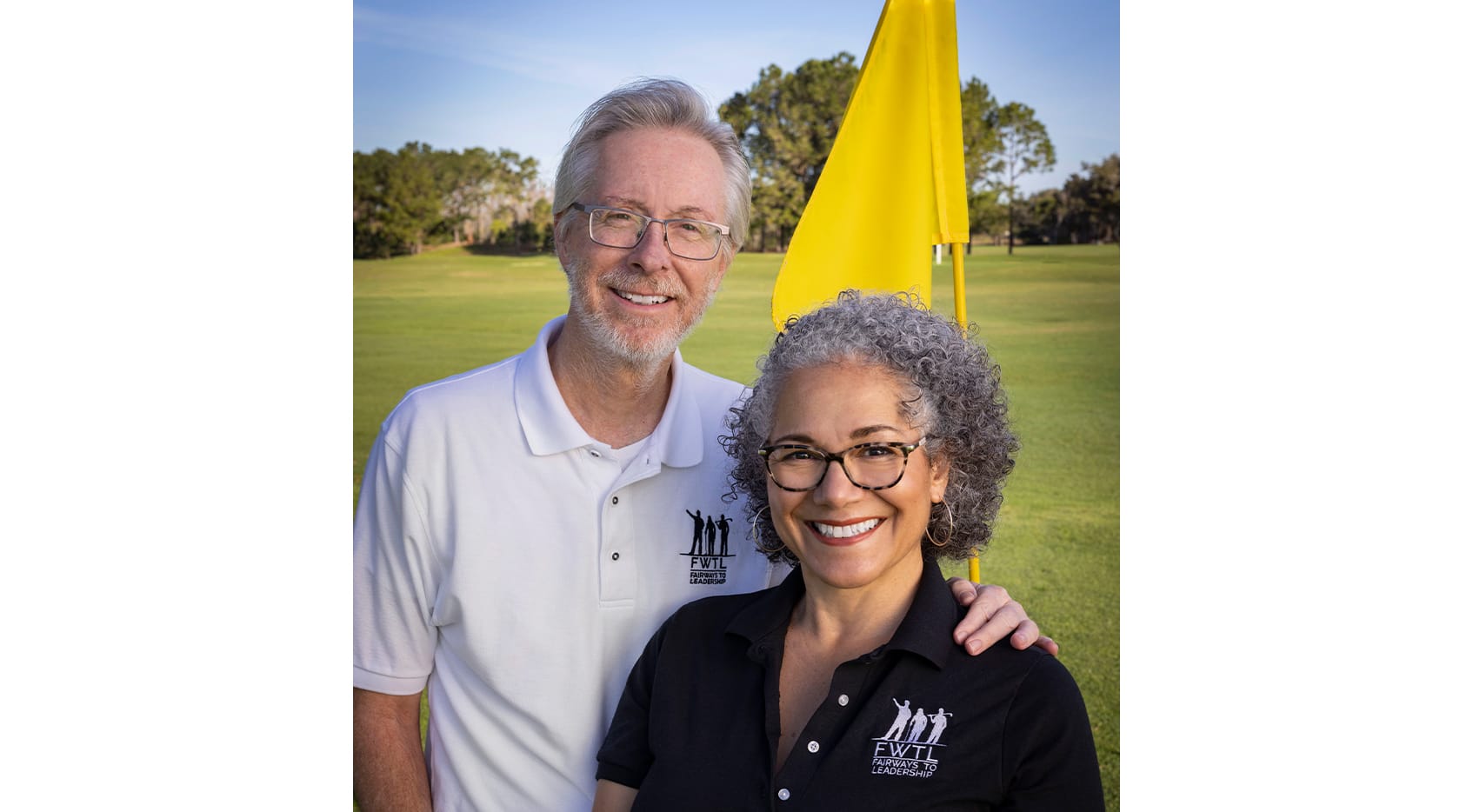 Eric Boyd and his wife Anna Alvarez Boyd started Fairways to Leadership in 2020 during the pandemic.
Six students took him up on the initial offer. Boyd told them that he didn't know when golf would play a role in their careers but that at some point, someone would ask if they wanted to go out and play 18. And, he said, you want to be able to say yes.
"We thought (the program) was going to be one afternoon, two hours," Boyd says. "At the end of the first session, they said, 'When do we meet next week?'"
In just over two years, the FWTL program has been adopted by nine universities in five states, growing, Boyd says, "kind of meteorically" from those six students. More than 350 students have graduated from the program.
FWTL is a grassroots grant recipient of Make Golf Your Thing, a golf industry initiative to bring greater diversity to the game supported by the PGA TOUR, PGA of America, USGA and LPGA, along with leading equipment manufacturers. Its new Make Golf Your Career portal with nearly 3,000 posted jobs provides another resource for students going through the FWTL program.
"Just to give you a profile, our students are about 70 percent women and about 60 percent students of color," Boyd says. "They're undergrad and they're grad students. … But when you hear them say, 'Wow … I never thought golf would be something that would be available to me.' And you hear something like that being somebody who's played golf for 40 years, you go, what? Why would you not think it? But that's their frame of reference, right? it's not a game that has always been that inviting to people who didn't look like me – a male Caucasian.
"So, I think we're just about making that warm safe invite and also helping them to see that this is not just a game," he continues. "It's in some ways a gatekeeper sport when it comes to business. And we don't want this sport, this game to be a barrier to their success."
Each student in the program is given a Sunday bag with five clubs – putter, 5-iron, 7-iron, 9-iron and driver (or a bag with the other even number clubs). Some come from First Tee-Central Florida and others from sets that Boyd buys on E-Bay.
In addition to one hour of instruction each week, the game is broken down into six leadership moments – at the clubhouse, practice area, tee box, fairway, green and 19th hole – with podcasts to teach the students how to be successful at each. The leadership traits FWTL focuses on are mindfulness, adaptability, integrity, curiosity, empowerment, and strategy.
'What we heard early on from some of our students, they sort of told us, look, playing the game itself is not the challenge," Boyd says. "The challenge for us is feeling socially comfortable and confident in this new world. And so, what you need to do is help us know more than just how to swing the club or how to keep score. Help us know how to carry ourselves, help us know what to expect socially when we get out there. And so those podcasts combine those two things together."
In addition, the students learn from speakers like Allison Fillmore, vice president of business development for the PGA TOUR; Seth Waugh, CEO of the PGA of America; and Suzy Whaley, its first woman president. Boyd strives to deliver a broad base of business leaders, including Dawnet Beverley, executive vice president with Donnelley Financial Solutions, and Stacey Mobley, formerly the CAO and general counsel for the DuPont Company. Even now, two years after he finished the program, Brown still takes advantage of that opportunity.
Brown didn't know what an iron was when he started the FWTL program – he says what little he knew of golf was from the EA Sports video game. He admits his golf game is still a work in progress, but he's come to appreciate the skill and strategy involved – in more ways than one. Brown knows that a Forbes study showed 90 percent of Fortune 500 CEOs play golf, and 80 percent of executives have used the game to further business relationships.
The FWTL program has given Brown, who can see himself working in corporate partnership development down the road, the knowledge, and the tools, to help him prosper in that realm.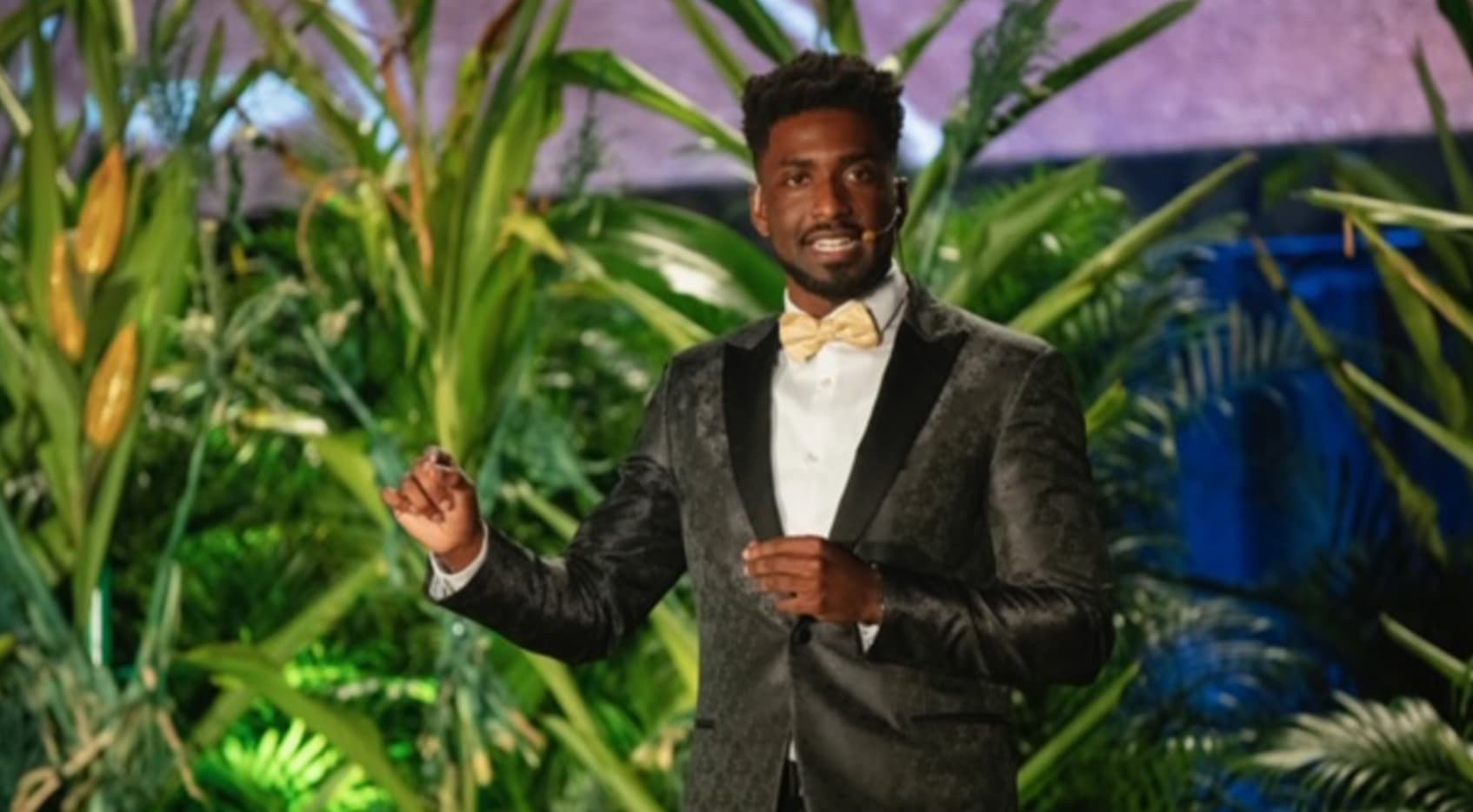 Jaylen Brown grew to appreciate the skill of the game through Fairways to Leadership.
"It felt like someone is taking a chance on me," Brown says. "When I say this, it's very personal, but I guess (it's) the fact that they do what they do for those of us who don't even believe that we can do it. Like I said, the way a lot of us are brought up, it's just not something that's seen as something we can do in our communities.
"They'll literally take the time to teach and give you the opportunity, give you access to opportunity."