Archive
Stars mingle with 'Students on the Tee' in L.A.
Youth will introduce pros before their opening drives at The Genesis Invitational on Sunday
Ariana Perez knows it's probably a longshot, but she's anxious to see whether the man she called Mr. Tiger Woods remembers her.
She met Woods in October at the inaugural TGR Junior Invitational presented by TaylorMade, where she was one of 60 chosen to play in the two-day event at the Pebble Beach Resort. She remembers standing in line and rehearsing what she wanted to say. As she was telling Woods that she went to the TGR Learning Lab in Anaheim and learned to play golf there at age 10, a staff photographer took their photo. The 17-year-old has it framed on her wall.
"I get to stare at it every day," she says.
On Sunday at The Genesis Invitational, the $20 million PGA TOUR event Woods hosts and will play in at iconic Riviera Country Club, Ariana may get another chance to see her hero. She'll be one of the "Students on the Tee" at No. 1 in the final round, introducing the pros before their opening drives.
"It's definitely going to be exciting," says Ariana, who, like her parents, has never been to a TOUR event. "I couldn't believe that I was actually going to be there at the first tee because obviously I've seen these people on TV and I see their amazing shots and I'm like, how did they do that? And now I'm going to be seeing it in person."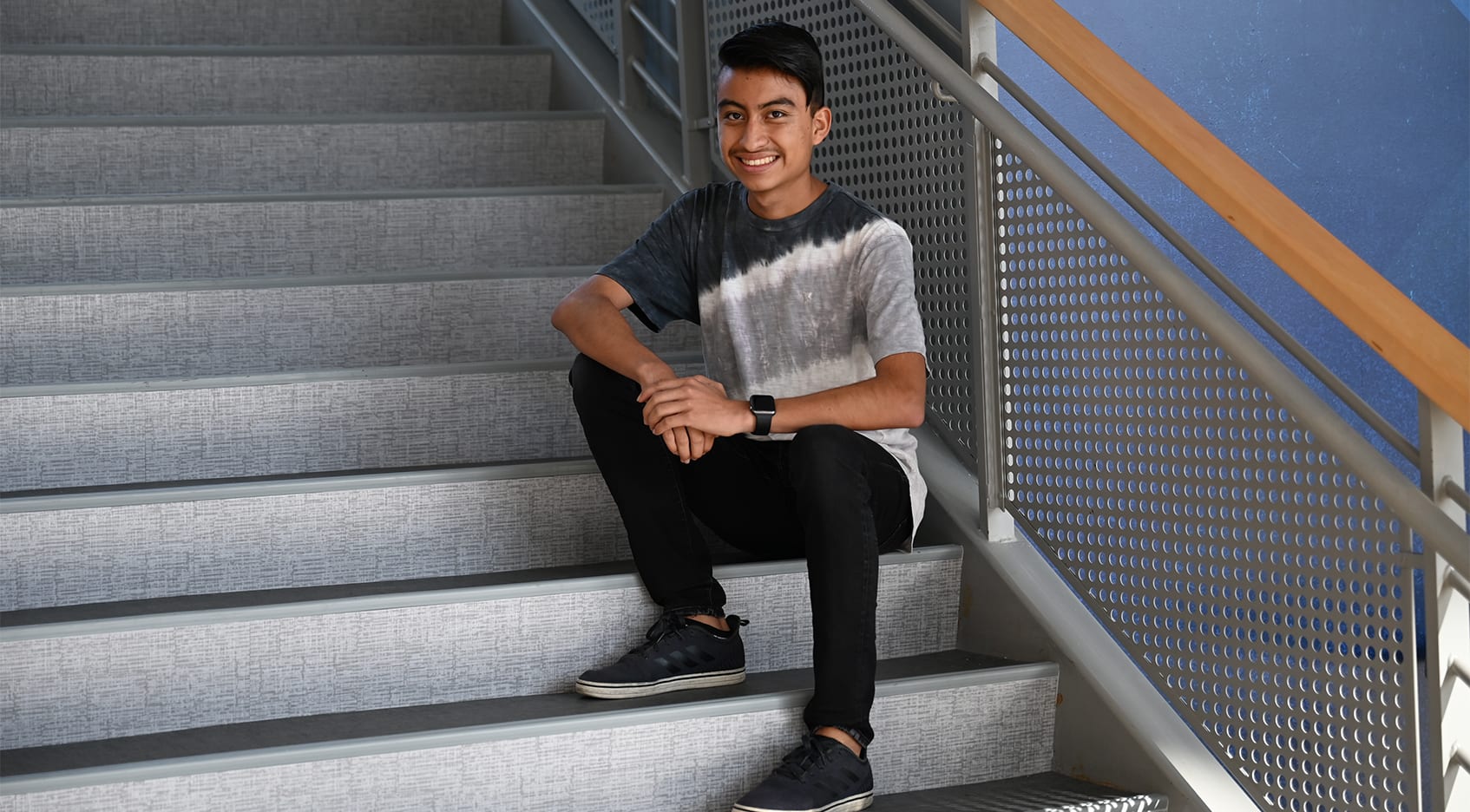 Miguel Jimenez, a 17-year-old high school senior, has drawn the Saturday morning shift. Unlike Ariana, he has never met Woods, although he did go to The Genesis Invitational as part of an eighth-grade field trip with the TGR Learning Lab. Unfortunately, the group left before Woods teed off that day.
"So, this year, since I am the tee starter, I said, maybe I'll be able to see him," Miguel says, the excitement evident in his voice.
Ariana and Miguel are among seven students from the TGR Foundation who were selected to serve as starters this week. The students have participated in the foundation's programs including the TGR Learning Lab and Earl Woods Scholar Program. The TGR Learning Lab is 35,000 square foot education center that has provided opportunity and access to thousands of students through its day program for grades 5-6 and after-school program for grades 7-12. It primarily focuses on STEM education – science, technology, engineering and math – as well as activities like golf and the arts. A college-access program helps students prepare for higher education with SAT and ACT workshops and opportunities to talk with college recruiters.
Classes are more like hands-on workshops; a forensic science unit introduces students to fingerprinting and DNA analysis. Ariana and Miguel have built and programmed robots in class, while computer science introduces students to coding, and Ariana designed apps in her media class. Both say the college preparatory program has been extremely valuable.
"Those have definitely helped me think more about my future," says Ariana, a high school junior who hopes to become an attorney. "… Even with the STEM classes I took in middle school, I kind of joke about how I built little marshmallow toothpick bridges or towers, but really, I think I got a taste of different technical aspects of opportunities or occupations.
"When you're in middle school you have like a bunch of different ideas of like, oh, I want to be a doctor. I want to be this; I want to be that. With a lot of the classes, they're kind of teaching you about design or teaching you about STEM studies or cybersecurity studies, which are all kind of like the future. So those are really helpful. But they teach it in a way where it's not too daunting or scary where it's like, oh, I can't do that because like, I'm not smart enough or I won't understand it."
Miguel lives a 10-minute walk away from the Learning Lab in Anaheim, where he has been going since he was in fifth grade. He's enjoyed learning new things and meeting people from different schools who came because they wanted to learn, not because they were forced to come.
For Miguel, who has applied to 10 colleges and wants to study engineering, the Lab became a "second home." And while he has found his passion in running track and cross country, his "friend group" started with someone he met in his golf class. And he's seen other benefits beyond the educational realm.
"I think it's helped me a lot because for me, I am the quiet kid," Miguel says. "I don't really like to talk a lot. Even in school, I don't really talk as much unless I'm with a group of people that I'm comfortable with, and being at the Learning Lab has helped me a lot because they taught me to be open.
"I was able to talk to other people and I was able to learn things that were important, and I would apply it to my everyday life and apply it to school. So, whenever I learned something there and then I learned it at school, I was like, wait, I already have a good idea of what this is about because I already learned about it at the Learning Lab."
For Ariana, the introduction to golf has been life-altering – and not just because she met Woods at Pebble Beach. One of the instructors at the Learning Lab has become her private golf coach. She's made steady progress, breaking 80 on several occasions, and hopes to play in college.
"I've been looking at academics first," she says. "That's definitely something that the instructors from the TGR Learning Lab have always taught me."
She has a full plate – she plays soccer in the winter and swims on her school team. She also competes in pageants as well as on the debate and mock trial teams, and resurrected her school's Latin Club, calling it Latino Unidos and adding elements of culture and food. She decorates floats for the Rose Bowl parade and plays violin in the inner-city orchestra, and even finds time to volunteer at the Ronald McDonald House, cooking breakfast on the weekends and playing with the kids.
The solitary nature of golf and the ability to compete against yourself is attractive to Ariana, though. She also likes the strategy, checking course maps on-line and figuring out how to attack each hole before she plays. But she knows the benefits extend far beyond her score, specifically in the people she meets and opportunities she has – like the one on Sunday at Riviera.
"There's so much I like about golf, and not just the sport, but kind of the space it's made for me and the programs I've been able to join," she says. "It's opened the doors for me, I guess."
And it all started at the TGR Learning Lab.